What comes with your Brown Davis fuel filter kit?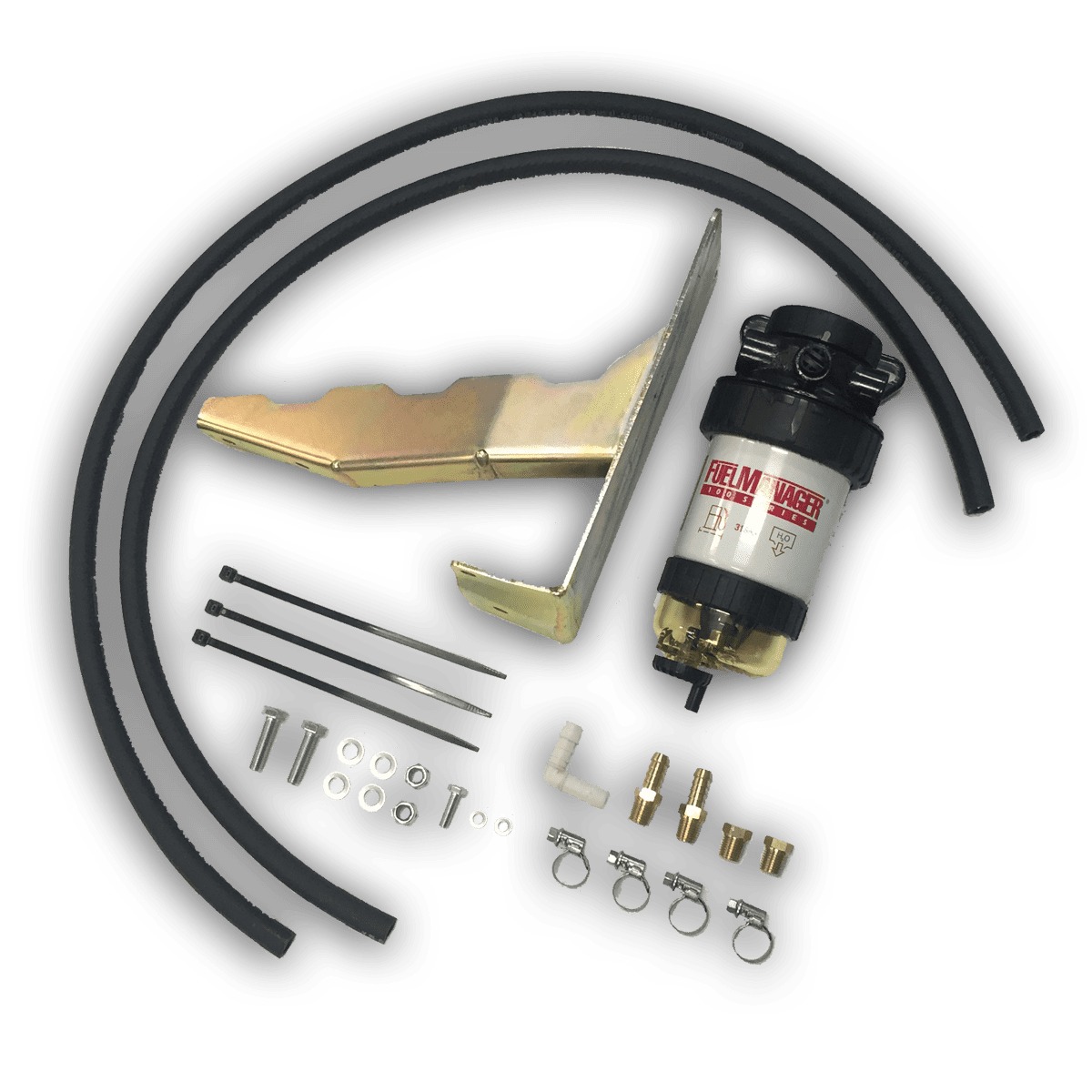 2
CORROSION PROOF BRASS FITTING
3
3MM STEEL ZINC PLATED BRACKET – VEHICLE SPECIFIC
4
30 MICRON PRIMARY (PRE) FILTER
6
STAINLESS STEEL HOSE CLAMPS
What is a primary (PRE) fuel filter?
A Pre-filter should be there to do exactly what its name says. Filter the fuel 'pre' the main filter. Why? If the fuel is in a poor state (contaminated with gunk/algae and other matter) it will have some of that removed so that the MAIN filter is left to worry about filtering the remaining stuff. The main filter will block quickly with a bad batch of fuel and leave you with a car stranded in limp mode. The pre filter is there to try to stop this problem protecting the OE main filter from the worst of a very bad fuel fill.
Diesel and water separate very easily. If you have ever heard of 'algae' growing in Diesel fuel its actually growing in the water. When you have algae you have a large problem of a growing mass of blobs that can cover sensors and make them inoperable. Installing a water sensor alone will not guarantee protection from water contamination. Pre-filtering the fuel removes all these large messy bits and pieces so that 'treated/filtered' fuel is allowed to flow on to the main filter where its sensors and alarms can operate more successfully. The Brown Davis filter kits all come with water separator clear bowls on the bottom that can readily be inspected and drained to remove any water trapped before it made it into the original main filter.
Step by Step DIY instructions supplied
All Brown Davis fuel filter kits come with step by step instructions that walk you through every step of the install.
Protect your engine and avoid expensive repair costs! Install a Brown Davis DIY Fuel Filter Kit!
47 Holloway Dve, Bayswater Victoria, Australia, 3153
Phone:
+61 (3) 9762 8722
Fax:
+61 (3) 9762 9829
Email:
[email protected]